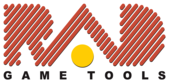 The Best in Game Development Technology!
Hi, welcome to the RAD Game Tools website!
Here at RAD, we make video game development tools. In fact, at least one of our products is built into almost every video game made today. To date, we've appeared in more than 15,500 games!
Game developers like our products for a couple reasons. First off, they are designed specifically for them - we aren't just repurposing technology designed for some other market. Secondly, our developers are the ones doing the actual technical support and documentation. When you need help, you talk to the right people. Finally, our licensing is the easiest in the industry - simple agreements and flat fees.
You can read all about our products on this site, but the best way to evaluate them is to let your programmers try them! Give us a call at 425.893.4300 or email us to get a trial version!
We currently have six main tools: Bink Video, Iggy Game UI, the Telemetry Profiling System, the Miles Sound System, Granny 3D, and Oodle Data Compression. Each of these tools solve a different problem for game developers. Let's talk about each one.
Our Products: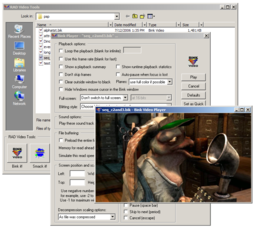 Bink 2.3 Video
is now shipping!
Bink 2.3 is massively better than Bink 1. You'll be shocked at how low you can get the data rate!
Even better, Bink 2 can be much faster than Bink 1, due to its multi-core scaling and SIMD design (up to 70% of the instructions executed on a frame are SIMD). It is really fast - it can play 4K video frames (3840x2160) in 4 ms on PCs and 11 ms on Sony PS4 or Xbox One!
Bink 2 is available for Windows (standard, Windows 8 Store and Windows 8 Phone), MacOS, Linux, Sony PS4, Xbox One, Xbox 360, Sony PS3, Sony PSP2, Nintendo Wii and WiiU, Android and iOS.
Bink 2 still includes its great audio codec with multi-channel and multi-language support.
Bink is available for all game platforms.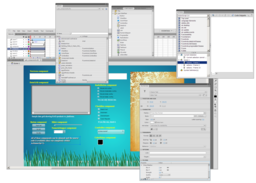 Iggy
Iggy is our new, powerful system for creating graphical user interfaces using content created in Adobe Flash. With Iggy, you create graphics, scripting, animation, and interactivity in any Flash authoring tool, then use Iggy to run the exact same content on any of our supported platforms.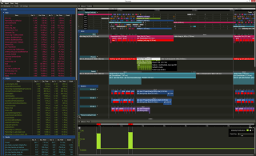 Telemetry
is the profiler that you've always wanted to write for yourself! It is a sophisticated new toolkit for profiling, tuning, and, most importantly, visualizing real-time application performance. By looking at your program's execution over time you can intuitively find candidates for optimization, very often in places you didn't realize needed optimization!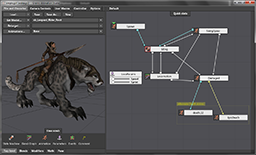 Granny 3D
is a powerful toolkit for building 3D games. Granny can be used for as little, or as much, as you want her to handle! She can export all of your Max, Maya and XSI data (models, animations and/or textures), she can do all your run-time animation, she can do normal and texture map generation, and she can be used to build your game engine or just strengthen it. Granny is available for all 3D platforms.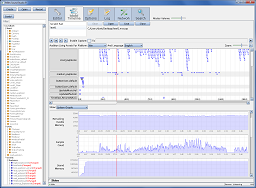 The Miles Sound System 9
is now available!! Featuring our all new high-level authoring environment that allows your sound designers to create entire soundscapes with no programmer involvement!
Miles handles all aspects of sound - multichannel digital audio mixing, audio decompression (ADPCM, Bink Audio, Ogg, MP3), 3D spatialization, voice chat, MIDI with DLS, and much more. Miles is available for all game platforms!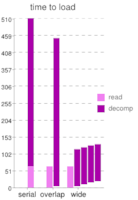 Oodle Data Compression and IO
is now available!! Featuring three all new lossless data compression algorithms that span the range from fast decompression to high compression. Choose the codec that's right for your application.
Oodle provides fast async IO on every platform. It can package your data into archives, apply patches, schedule block IO against streaming media, and sequence parallel decompression. Oodle has everything you need to load your game data right.
If you have any questions about any of our products, don't hesitate to email us!