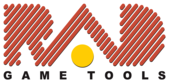 RAD Game Tools is an Epic Games company based in Kirkland, Washington. At least one of our products is built into almost every game shipped today. We have appeared in more than 24,600 games to date, and roughly 200 million end user units per year.
RAD has a small staff of really smart programmers that can code, write documentation, and provide great technical support. Unlike most companies, we want our smart people working on documentation and supporting our customers - that's the way our products get better!
After all, how would we know if the documentation needed clarification if we didn't talk to the developers? How would we know if some API was too complicated without trying to walk someone through it over the phone?
It is this circle of development (code->documentation->support->code) that we think makes our products unique. When you use our products, it should feel like an API that you designed yourself.
Further, all of our developers are long-term game development veterans. Some of us have been working in the game industry for 20 years! We know what you are going through, because we've been there ourselves.
RAD also does a fair amount of consulting on both game software and game hardware projects, working on major products for Sony, Intel, Microsoft, and others.
RAD has been in business since 1988, we opened a Japanese office in 2008, and we were purchased by Epic Games at the start of 2021.
E-mail or call for more information about RAD Game Tools or any of our products.
US Office:
425.893.4300 phone

Japanese Office:
RAD Game Tools
050-3685-7107 phone