Oodle Network and Data Compression
Oodle is a library of data compression tools specifically designed for games. Make your game smaller to download, make your levels load faster, and compress your network packets for better player experience and to save money on bandwidth!
Oodle Data Compression
provides the fastest and highest ratio compressors for game data. There's a perfect Oodle compressor for every need.
Oodle Network Compression can compress UDP or TCP packets like nothing else, saving bandwidth for your players and servers.
New versions of Oodle are continuously being released, see the Oodle change log for details.
Oodle gives you all the tools to compress your game data right, cross-platform and ready to use out of the box. Save yourself the headache and let Oodle deal with it! Email us to get an evaluation SDK!
Speed and compression to suit your needs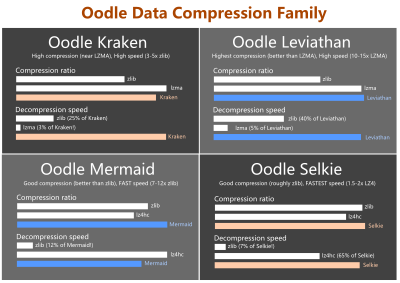 Oodle provides more than ten different custom data compression algorithms, even of which provide different levels of compression, memory use, and speed.
You can easily switch between them to find the optimal tradeoff of compression ratio versus speed and memory use for your game, by just changing one parameter.
Mix and match super-fast and super-high-compression as you see fit.
Read more about Oodle's compressors here!
Oodle Data Compression - A compressor for every need!
Revolutionary compression and speed!
Oodle Kraken offers high compression with super-fast decodes - 3-5X faster than Zlib, 10-30X faster than LZMA (at near LZMA compression ratios)!
Oodle Mermaid offers mid-level compression (slightly better than zip) with insanely fast decodes - 7-12X faster than Zlib. Basically, near LZ4 speed but with zip-level compression. Loading data compressed with Mermaid is even faster than loading uncompressed data from disk!
Oodle Selkie offers lower compression ratios but the very crazy-fastest decodes, 1.5-2X faster than LZ4 but with slightly better compression (ratio falls between LZ4 and zip). Eliminate decode time - Oodle Selkie is the fastest decompressor in the world, close to memcpy speed!
Oodle LZNA offers world-beating compression ratios at the high-compression-ratio end of the spectrum, yet still decodes 2-4X faster than 7zip/LZMA. Make your distributions smaller!
The Oodle BitKnit compressor has a great balance of speed and compression ratio. Very high compression ratios (in between Kraken and LZNA), with decode speed comparable to Zlib, and excellent encode speed!
Use the same tools and package on every platform. Oodle gets the best out of each platform without the need for different solutions.
Oodle is fast!
Oodle's compression algorithms are designed to be very fast to decompress, so your game loads quickly - decode time is king with Oodle!
Oodle has Windows, PS4, Xbox One, Nintendo Switch, PS3, Xbox 360, Mac, Linux, Android, and iOS support, with optimized routines for every architecture. Oodle has the same interface and file formats across all platforms, and one set of simple tools.
Oodle Network Compression - Unique compression for your network streams!
Oodle Network Compression reduces game bandwidth by 25% - 80%! Oodle can even compress game packets that have already been delta'ed and bit-packed. It even works on tiny UDP packets!
Oodle Network easily drops in to the network stack of any engine. It's one simple call that doesn't change your networking architecture.
Oodle Network Compression uses way less memory per channel than zlib, and zero memory per UDP channel!
Save bandwidth with Oodle Networking
Oodle has unique custom network packet compressors that work with TCP and UDP. Oodle can compress real game packets by as much as 6X! That compression translates to a direct savings in bandwidth. Oodle's compressors also use the least memory of any packet compressor.
Read more about Oodle Network Compression
.
Use a little Oodle or a lotta Oodle
Integrating Oodle is very easy, and the impact on your code is minimal. Oodle gives you cross-platform sophisticated data compression in a simple C-style interface. Oodle doesn't force any of its systems on you; it exposes several layers of API. You can use just the low level routines such as decompressing data from memory to memory. Or you can use the high level routines that manage threads, IO, and parallel compression for you. The choice is yours!