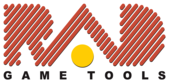 The Best in Game Development Technology!
Hi, welcome to the Epic Games Tools, or RAD's website!
Here at RAD, we make video game development tools. In fact, at least one of our products is built into almost every video game made today. To date, we've appeared in more than 24,600 games!
Game developers like our products for a couple reasons. First off, they are designed specifically for them - we aren't just repurposing technology designed for some other market. Secondly, our developers are the ones doing the actual technical support and documentation. When you need help, you talk to the right people. Finally, our licensing is the easiest in the industry - simple agreements and flat fees.
You can read all about our products on this site, but the best way to evaluate them is to let your programmers try them! Give us a call at 425.893.4300 or email us to get a trial version!
We currently have three main tools: Bink Video, a family of compression projects under the Oodle umbrella, and the Telemetry Profiling System. Each of these tools solve a different problem for game developers. Let's talk about each one.
Our Products: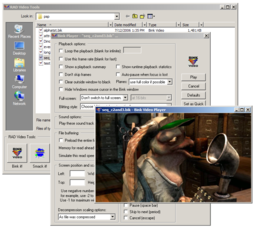 Bink 2
is the perfect video codec for games - it's tiny, easy-to-use, self-contained, and crazy,
crazy
fast.
Bink now has HDR support! Compress and playback high color-depth video in your HDR game.
Bink also has optional GPU decoding for even faster decoding! With GPU-assistance, you can decode 4K video frames in as little 2.3ms on PS4/Xbox One, and 1.4 ms on a PC!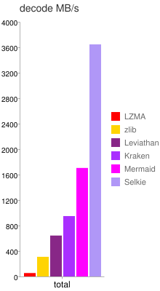 Oodle
data compression gives you the fastest lossless generic data decoding in the world. Load your data faster, pack your data smaller, cross platform and easy to use.
Oodle features the amazing Oodle Kraken, Oodle Leviathan, Oodle Mermaid, and Oodle Selkie - four codecs that decode faster than anything seen before, with a range of compression ratios.
Oodle Texture creates BC1-BC7 block-compressed textures for GPUs that compress dramatically smaller, with unparalleled quality!
Oodle Network compresses packets for TCP or UDP networking up to 6X more than bit-packing alone. Run more players on your game servers and use less bandwidth.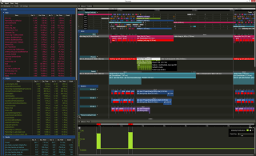 Telemetry
is the profiler that you've always wanted to write for yourself! It is a sophisticated new toolkit for profiling, tuning, and, most importantly, visualizing real-time application performance. By looking at your program's execution over time you can intuitively find candidates for optimization, very often in places you didn't realize needed optimization!
If you have any questions about any of our products, don't hesitate to email us!