Granny is the most efficient and flexible animation system in the industry, and Granny 2.9 has a brand new set of tools that you are going to love.
Granny has always made life easy for the programmers on your team. Whether you work in Max, Maya, or XSI, Granny makes it a snap to export, process, and animate anything that the artists can build. She has a data pipeline that's been battle-tested on every platform. With over 2,600 titles shipped, many teams wouldn't think of starting a game without her.
Now, with the new Animation Studio in Granny 2.9 we're focusing our attention on the other half of the team: artists and technical animators. The Animation Studio exposes the power of Granny's animation system to the art team, but in graphical form. You can build blend-graphs, specify character behavior, sync to events, author procedural IK, and more. And you can do all of it without writing a single line of code.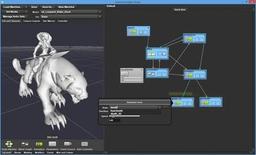 We haven't forgotten the programmers in the Studio, of course. The entire tool is built on top of a modular, extensible runtime that you can customize as needed. Any custom nodes that you create for your game's specific environment can be integrated right back into the Studio so they look like just like our built-in features to your artists. And of course, it comes with full source to both the Studio and its runtime.
Interested?
We're convinced that Granny will make developing your game easier. Check out some concrete ways that Granny can fit into your project. And remember that the fastest way to learn about any RAD product is just to email us at sales3@radgametools.com and set up an evaluation with full support.
If you're already a Granny customer or just want to keep tabs on her, she has gone social along with everyone else! Follow us at @granny3d on Twitter or check out the development blog at radgranny.blogspot.com.
If you're looking for something specific, we keep the entire Granny version history online so you can keep track of what we're up to.